Celebrating Chavez/Huerta
A calendar of events and resources:
CÉSAR CHÁVEZ & DOLORES HUERTA COMMEMORATION
The César Chávez and Dolores Huerta Commemoration is a citywide effort to honor César Chávez and Dolores Huerta by emphasizing Service Learning and Environmental Justice. The commemorative period begins on the Spring Equinox, March 20th, the traditional beginning of the planting season, and extends to the anniversary of his passing, April 23rd.
CÉSAR CHÁVEZ & DOLORES HUERTA RELATED EVENTS
WHATS NEW?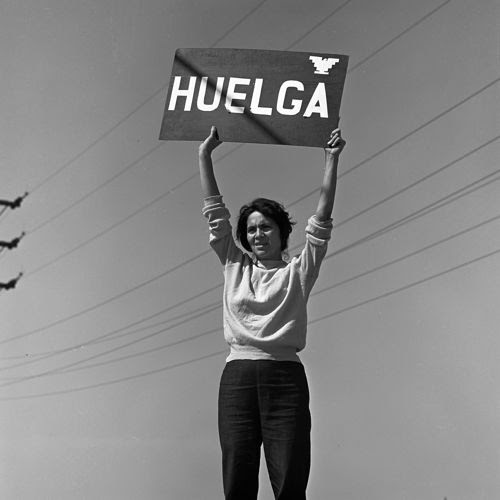 La Raza Chronicles, KPFA
Featured: How César Chávez and Dolores Huerta are celebrated in Berkeley, Poem by Guillermo Gomez Pena, and Rafael Jesus Gonzalez shares his poetry on the farm worker movement and its legacy, and music.
Listen to the show on Soundcloud.com!
Chavez / Huerta Service Learning Internship
An Internship that will allow two college age youth help with the Commemorative Period (
March 20th – April 23rd
) as well as the Latino Heritage Month celebration (
Sept 15 to Oct 15th
). The Interns will be given a stipend. (In development)
Latino Heritage Month – Planning will begin in May for the

Sept 15th – Oct 15

celebration
The day of
September 15
is significant because it is the anniversary of independence for Latin American countries Costa Rica, El Salvador, Guatemala, Honduras and Nicaragua. In addition, Mexico and Chile celebrate their independence days on
September 16 and September 18
, respectively. Also, Indigenous Peoples Day or Día de la Raza, which is
October 12
, falls within this 30 day period.
Berkeley Times article
Opinion: "Is it possible that 1 + 1 could equal 3?" by Santiago Casal
There is an old saying that sometimes "the whole is more than the sum of its parts."
That is certainly true for the added value brought on by the 30-year alliance between César Chávez and Dolores Huerta, labor and civil rights leaders and environmental activists. For this reason, Berkeley's César Chávez Commemoration Committee decided last year to honor Dolores Huerta as well, resulting in our new name: the César Chávez / Dolores Huerta Commemoration Committee.
>> READ MORE
Berkeley Times article
Opinion: "Why now is the time to honor Dolores Huerta" by Liz Fuentes
When we teach ours students about historical figures, we hope to inspire them with the values and actions of those people. But the challenge is always to bring history into the present moment and make it relevant and compelling for the children. When we teach about Cesar Chavez and Dr. King, among others, we need to be very conscious of the connection between then and now. By including Dolores Huerta in this yearly commemoration for Cesar and the Farmworkers, the work of making the struggle present today is basically done for us by what Dolores does and how she lives her life…today.
>> READ MORE
Similar Posts: